Where do I fuel biodiesel Cars in Kahului Maui?
Where do I fuel up?
There are two biodiesel stations on Maui selling 100% biodiesel. One in Kahului and one on the west side in Lahaina. Our Volkswagens get such great fuel economy, 35-40 mpg, that most people don't fuel up for a week! And thats if they are driving all over the island! 400 or more miles at tank! One can put in a gallon or two of regular diesel if they are worried about running out, but that should be rare if ever...
In Kahului Pacific biodiesel is located at 40 Hobron, Kahului. Centrally located and very close to the airport. The Pacific Biodiesel phone # is 808-877-3144. Pacific Biodiesel has a 24 hour pump so it is easy to refuel anytime!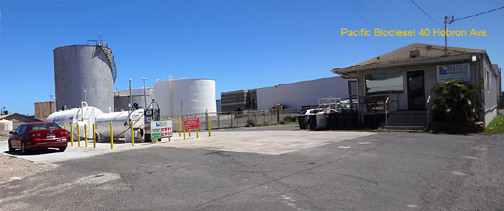 Turning onto Hobron from the Hana Highway, you will see a car wash on the right and Maui Oil. Immediatley to the left of that is Pacific Biodiesel. Turn onto the road between Maui Oil/Car Wash and Pacific Biodiesel. Turn left into the Pacific Biodiesel Station. Volkswagens go to the left of the first tank. Jeeps go to the right side
Park your car adjacent to the first pump, pump #1. Proceed to the credit card machine between the two white tanks.
Credit Cards use the right side card reader. Lift the cover. Insert/remove credit card. Type in: 1 Enter Y (Pump 1, Enter, Y for Yes you want a receipt.) It should say "Dispense Product", if all is well. Go to the pump, lift the fuel dispenser and turn to on position. Fuel up! Return dispenser to holder and retrieve receipt from credit card machine. If you want to pay cash, you will need to go there during Pacific Biodiesels regular business hours, 7:30 - 5:30 Monday - Friday.
Questions about Pacific Biodiesel Station, please call them: 808-877-3144
If you are renting a car from us, and have questions, but can't get ahold of Pacific Biodiesel, feel free to contact us.
The Biodiesel station in Lahaina is at the minit stop, at 10 Kupuohi St.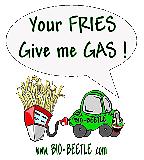 Home| Who we are| Maui Car Rental Policies| Maui Car Rental Prices| Electric Car Rental info| Biodiesel Car Rental info| Our Green Celebrities| Maui Hawaii tips and info| Cat Charity| In the News| Why ECO Friendly| More Links| Email
You're not just renting a car...